URL Blacklists
To configure the URL Guarding (URL Filtering) you have the possibility to build your own customized lists of URLs and/or subscribe to our URL blacklists service and benefit from the advantages of maintained and high quality lists of URLs classified by category.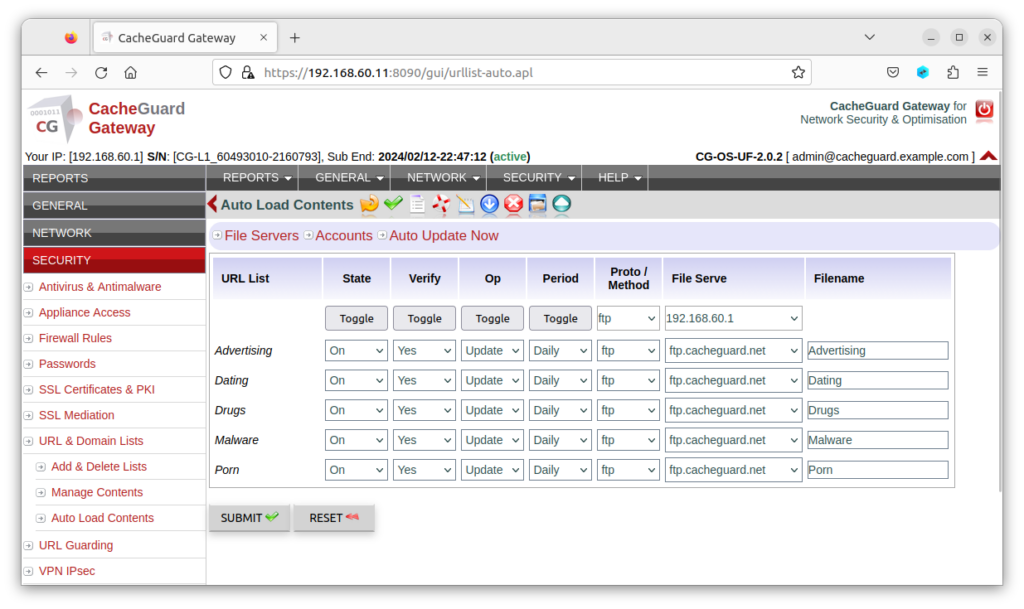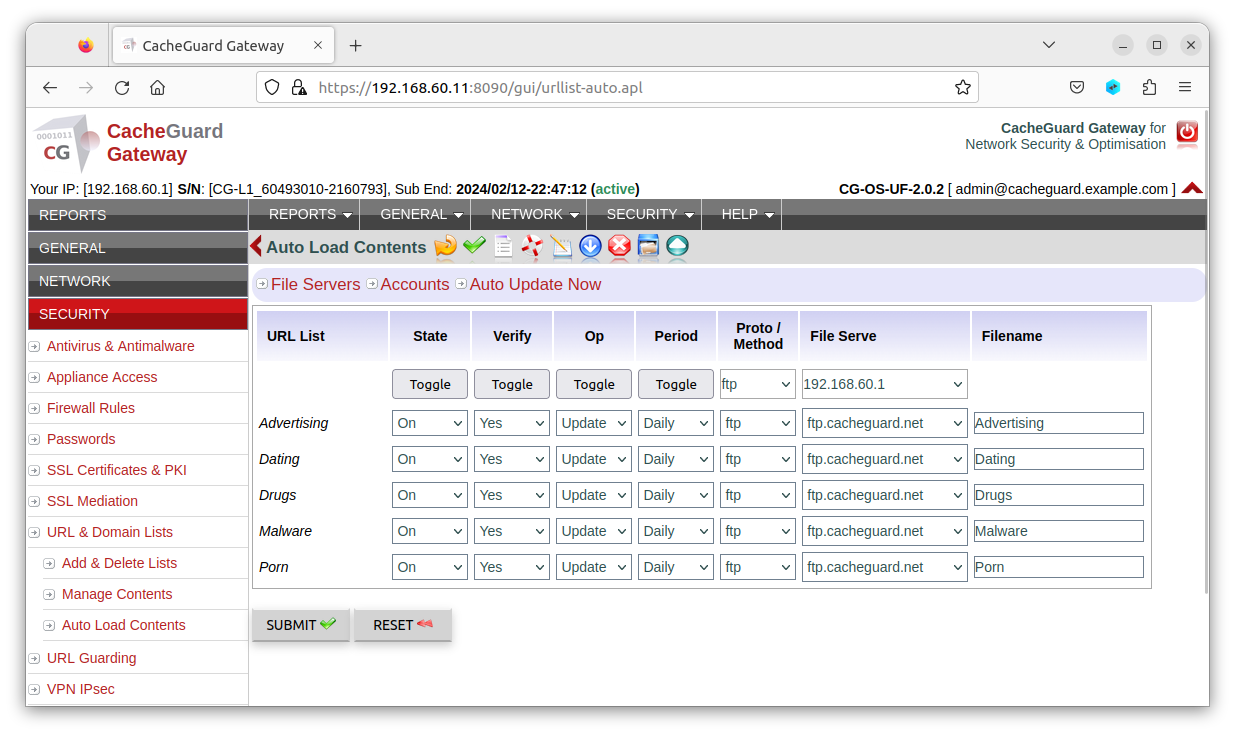 Our URL blacklists service is perfectly suited to be used with CacheGuard products. With this service, downloads and updates of URL blacklists become straightforward. Our blacklists are available as a download subscription service for a period of one month or one year. This service is proposed as an option attached to a unique CacheGuard subscription plan. Please find out more information on how to purchase a subscription plan at Purchase CacheGuard.
Extended Antivirus Signatures
When you subscribe to our URL Blacklists service, you get also access to additional virus signatures for an even better protection. Additional signatures include latest Crypto Lockers and many others not included in the standard package. The integration of additional antivirus signatures is automatic as soon as the antivirus is enabled on your CacheGuard product.
Our URL Blacklists Categories
Our lists contain thousands of website names and URLs classified by categories. Here you will find some examples of available URL Blacklists categories:
| | |
| --- | --- |
| Category | Description |
| Advertising | URL blacklists of sites about advertising: this includes sites offering banners and banner creation as well as sites delivering banners to be shown in webpages. Advertising companies are listed too. |
| Dating | Sites to contact people for love and life together. men seeking women, women seeking men, and so on. |
| Drugs | URL blacklists of sites offering drugs or explain how to make drugs (legal and non legal): covers tobacco as well as viagra and similar substances. |
| Gambling | Sites offering the possibility to win money: poker, casino, bingo and other chance games as well as betting sites. Differs from "hobbyGames" in the aspect of winning or losing money or being lured to do so. |
| Hacking | Sites with information and discussions about security weaknesses and how to exploit them: sites offering exploits are listed as well as sites distributing programs that help to find security leaks. |
| Porn | URL blacklists of sites about all kinds of sexual content ranging from naked photos to hardcore porn and S and M. |
| Malware | Sites containing malware and/or and phishing contents. |
| Warez | Sites offering programs to break license keys, license keys themselves, cracked software and other copyrighted material. |
| WebMail | Sites that offer web-based email services. |
You can find a complete list of our URL blacklist categories on CacheGuard Network.