CacheGuard Appliance
CacheGuard Appliance Gateway is a machine powered by CacheGuard-OS and ready to implement as a proxy for a better Web security in your organization. Use your favorite Web browser or the CLI to configure your CacheGuard within minutes.
Need to know more about CacheGuard? Click on the button below!
CacheGuard Appliance Gateway
Because your Enterprise Grade UTM & QoS appliance should be designed and tuned with care in order to match all your requirements and without wasting your hardware resources, our experts can help you to design the best CacheGuard appliance for your Web Security. Ask our technical architects for such a service and we will be happy to assist you in designing your appliance.
CacheGuard-VE
CacheGuard-VE (Virtual Edition) is a virtual appliance built according your requirements and our recommended technical specifications for your very special needs.
CacheGuard-VE is tested and certified on most well-known visualization systems such as VMware or MS Hyper-V. But many others like VirtualBox or Proxmox (Linux KVM) are also supported.
CacheGuard-VE is offered either as an OVA (Open Virtual Appliance) file to download and import into your visualization infrastructure OR as a remote Installation service. Our remote installation service is available using TeamViewer.
Please note that if you opt for CacheGuard Cloud services, a ready to use CacheGuard-VE appliance will be delivered to you as a service. All you will need to do is to use it as Web proxy in your organization. Thus your Web traffic will be instantly secured with CacheGuard. Interested in CacheGuard Appliances? Click on the button below!
CacheGuard-HW
CacheGuard-HW is a hardware appliance powered by CacheGuard-OS and ready to plug into your networks. We designed and developed CacheGuard-OS to support major hardware in the market but without guaranteeing to support the latest generation of servers freshly designed by your favorite manufacturer.
By choosing CacheGuard-HW you choose the security to have a certified hardware appliance for your critical needs and gain time and money in designing the best hardware machine for your very special needs.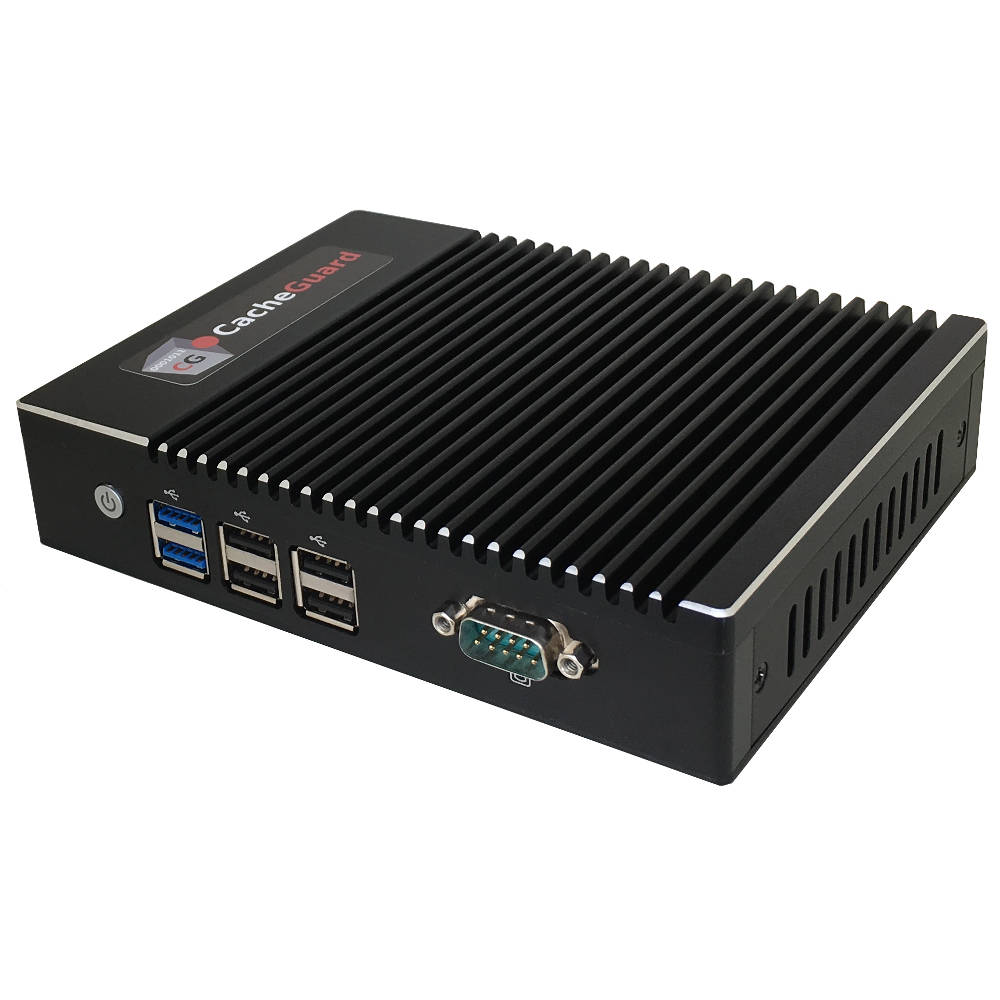 Because you have privileged relations with your hardware wholesaler or distributor or because you may have your preferences in choosing a hardware brand, you can provide us with your bare metal machine on which we can install and certify CacheGuard-OS and ship the resultant appliance back to you. Expose your requirements to our experts and we will be happy to design your tailored CacheGuard Appliance in terms of hardware resources. We can also directly provide you with a hardware appliance based on a well-known brand in the market such as Dell, HP or IBM.

And finally, we sell a hardware appliance based on mini computer powered by CacheGuard-OS and tuned to support 10 users in forwarding mode and/or 5 simultaneous users in reverse mode. This solution comes with basic support and 1 year subscription to our UBL (URL Blacklists) & EAV (Extended Antivirus) services. We call this solution CacheGuard Mini Appliance.
In any case, you just need to expose us your preferences while asking for a quote and we will be happy to provide you with the best appliance that fits your requirements. Please note that depending on your country, importing goods from UK may induce to pay customs duties that remain at your charge.
CacheGuard Appliance UTM & QoS made by yourself
You can install CacheGuard-OS by yourself on the machine of your choice to get a CacheGuard Appliance. The first step to build you UTM & QoS appliance is to choose a Virtual or Hardware machine with adequate resources to support your needs. Please read our User's Guide to size the best machine that matches your needs for your Web Security.