Gateway Manager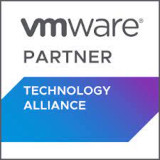 If you deploy several CacheGuard Gateways in your organization, you have the possibility to configure and deploy them separately and one by one. By proceeding in this way, you will see that most of the time you perform the same repetitive actions. If you want to avoid this, CacheGuard Manager is for you. The Manager gives you the possibility to centrally configure and manage several remote gateways from a single point. With the Manager you have the possibility to create configuration templates and build Gateway configurations based on that templates. Gateway configurations made on a Manager can then be pushed in parallel to several gateways with just a couple of clicks or commands. With CacheGuard Manager, you can manage your deployed CacheGuard Gateways in a uniform and optimized way.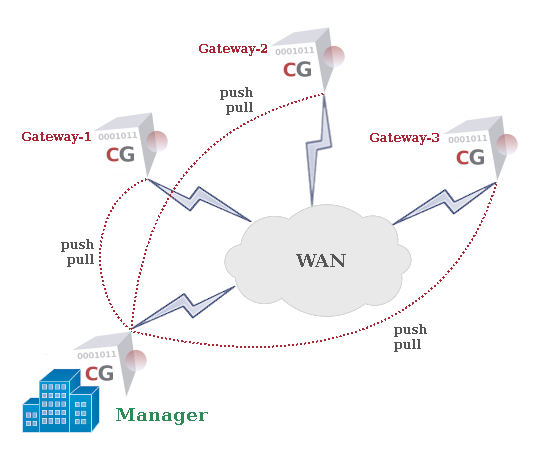 CacheGuard Manager Overview
Central Management
The Gateway Manager allows you to manage multiple remote CacheGuard Gateways from a central point. Managed Gateways can be UTM Gateways, Web Gateways, WAF Gateways or WAN Gateways. Gateway configurations can be pulled from remote Gateways and saved on the Manager. The administrator can then locally modify and validate them before pushing them back to remote Gateways. Pulling and pushing operations can be performed in parallel on a group of managed Gateways.

Templates
The Manager gives you the possibility to make configuration templates based on a Gateway configuration or another template. Templates can then be used to quickly make new Gateway configurations de deploy on remote Gateways.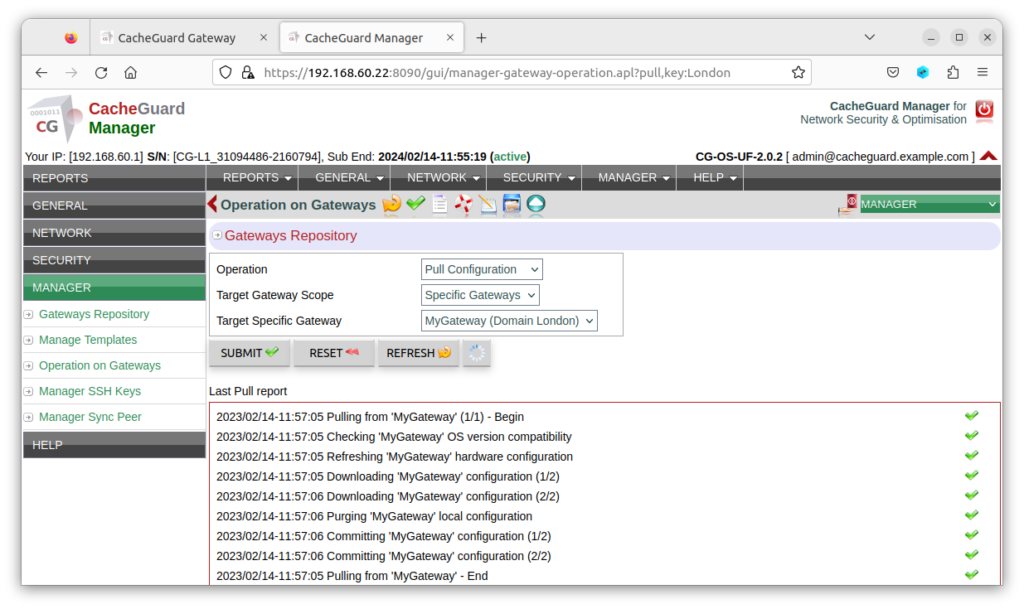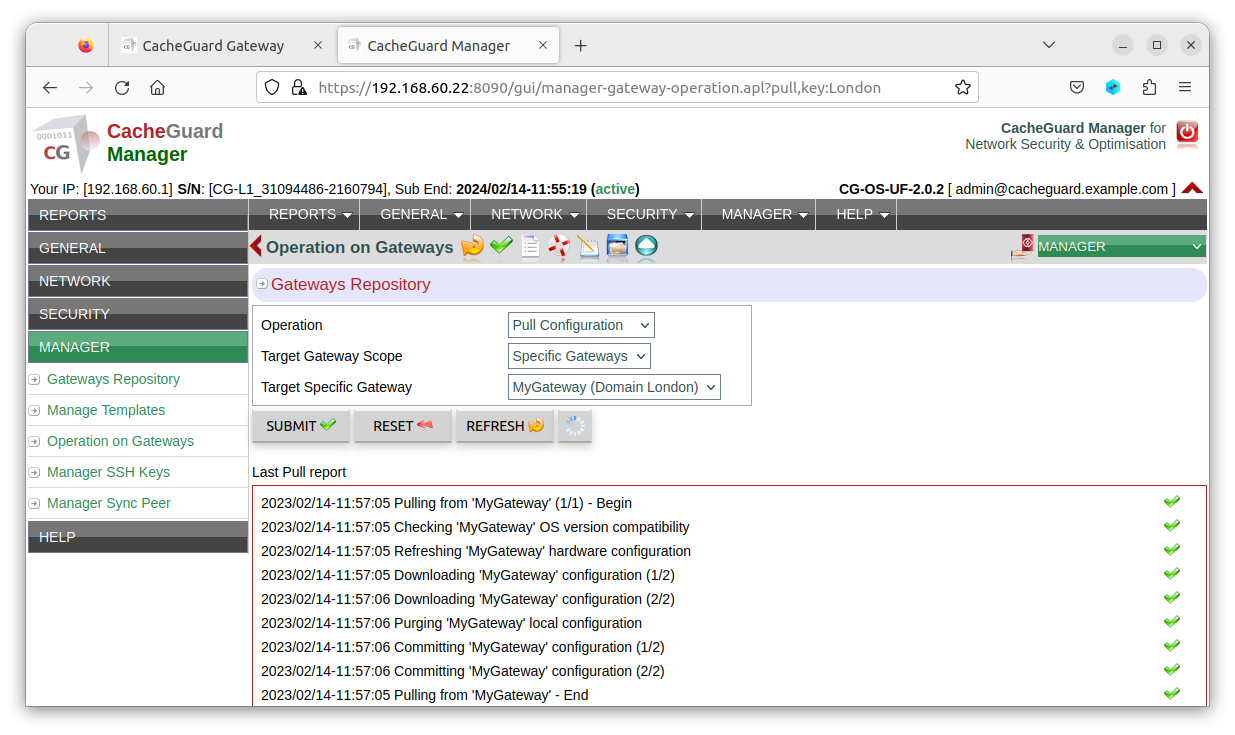 Central Blacklists
When you deploy a Manager, you have the possibility to centrally manage URL Blacklists and Extended Antivirus Signatures. URL blacklists and Antivirus Signatures can then be downloaded on the Manager once and be pushed to remote managed Gateways within a single automatic operation. The central Blacklists management is only available with non-free installations of the Manager.

Redundancy
In order to get High Availability, a backup Manager can be implemented to remedy the unavailability of a master Manager. To works properly, both the master and backup Managers should be allowed on Gateways and the backup Manager should take the slave role against the master Manager. In such a configuration, all modifications on the master manager are automatically copied to the slave Manager. Hence, in case on a failure on the master Manager, the slave Manager can be activated to ensure service continuity.

CacheGuard Manager is integrated into our core product, CacheGuard-OS. CacheGuard-OS is an appliance oriented Operating System that transforms a virtual or bare metal machine into a network appliance..