Internet Security & Optimization for SME
Give your Small or Medium Enterprise the same level of network Security & Optimization that large businesses can afford without breaking the bank. If you were a large business with a significant IT budget, you would probably opt to stack multiple technologies to meet your exceptions. Below you can see what a large business network infrastructure looks like:
Used Technologies by Large Businesses
Large businesses usually purchase one solution per requirement and then make considerable efforts to implement and integrate them. A typical large business network infrastructure may include the following technologies: a QoS (Quality of Service) and WAN Optimization manager such as Riverbed® or Ipanema®, a Firewall & VPN server such as Palo Alto® or Cisco ASA®, an ADC (Application Delivery Controller) such as F5 BIG-IP® or Cisco Secure ADC®, a Web Gateway such as McAfee Web Gateway® or Blue Coat Web Gateway® and a WAF (Web Application Firewall) such as Fortinet FortiWeb® or F5 Advanced WAF®.
The Cost of Network Security & Optimization Solutions
The fact is that most of the time only about 20% of features offered by those solutions are actually used and large businesses still purchase them in the hope to use the remaining 80% features one day. But that day will never come! In addition solutions referred to above are expensive because by purchasing them:
You pay intermediaries and resellers while you can directly purchase from developers.
You pay their buildings and offices around the world while most of their developers work from home.
You pay their outsourced low quality first level support while most of the time you can find their answers on technical forums.
You pay ASIC that they may develop while the latest high-end Intel® CPU will be more powerful at a lower cost.
You pay their hardware while you can purchase the same at a lower cost or opt for a virtual appliance.
You pay programs that they integrate in their solution while 99% of them are open source and free.
You pay the huge amount of money they expend for their marketing and advertisement.
CacheGuard makes the Difference
At CacheGuard Technologies, we develop a functional and easy to handle product line dedicated to internet security and network traffic optimization that fulfill 100% of your requirements. Interconnect your users, private servers and cloud services via the internet and offer your business the security, availability and optimization that it deserves at a fair price. Below you can see what a CacheGuard based network infrastructure may look like:
Place a CacheGuard gateway between your internet (or WAN) access and your LAN and activate CacheGuard features as per your requirements. That's all there is, it's that simple! With a CacheGuard gateway, you can build site to site or remote access VPNs (Virtual Private Networks), filter the Web traffic to get rid of unwanted or harmful contents, optimize your bandwidth usage, get internet access high availability, protect your Web applications against contents attacks and much more.
CacheGuard product line is based on a core product called CacheGuard-OS. Once installed on a bare metal or virtual machine, CacheGuard-OS transforms that machine into a powerful network appliance . The resulted appliance can then be implemented as an internet gateway in your networks. Haven't really convinced ? Check it out for yourself by downloading CacheGuard-OS today. You won't be disappointed!

Internet Security and Optimization as a Service
CacheGuard-OS is Open Source and FREE for up to 10 users! For more than 10 users, it is proposed as a subscription-based service that can be activated within minutes with the possibility to cancel at any time and without any extra costs. The subscription rate mainly depends on the number of connected devices and the required support level. Subscription prices start from 9.99 USD per month. You can find more information about how to purchase CacheGuard subscriptions at Purchase CacheGuard.
Full of Technologies
CacheGuard solutions use technologies such as but not limited to Firewall, VPN IPsec, Antivirus, Web Proxy, SSL Inspection, Caching, HTTP Compression, reverse Proxy, Load Balancing/Sharing, WAF, SSL offloading, Traffic Shaping, LDAP/Kerberos Authentication, OCSP server & PKI. In addition, all CacheGuard appliances can be configured using a CLI as well as a Web Browser. Well-known technologies have been integrated into CacheGuard to provide you with high availability, resiliency, reporting, secure accessibility & monitoring. Among those, are, RAID, Channel Bonding, VRRP, SSH, Syslog & SNMP.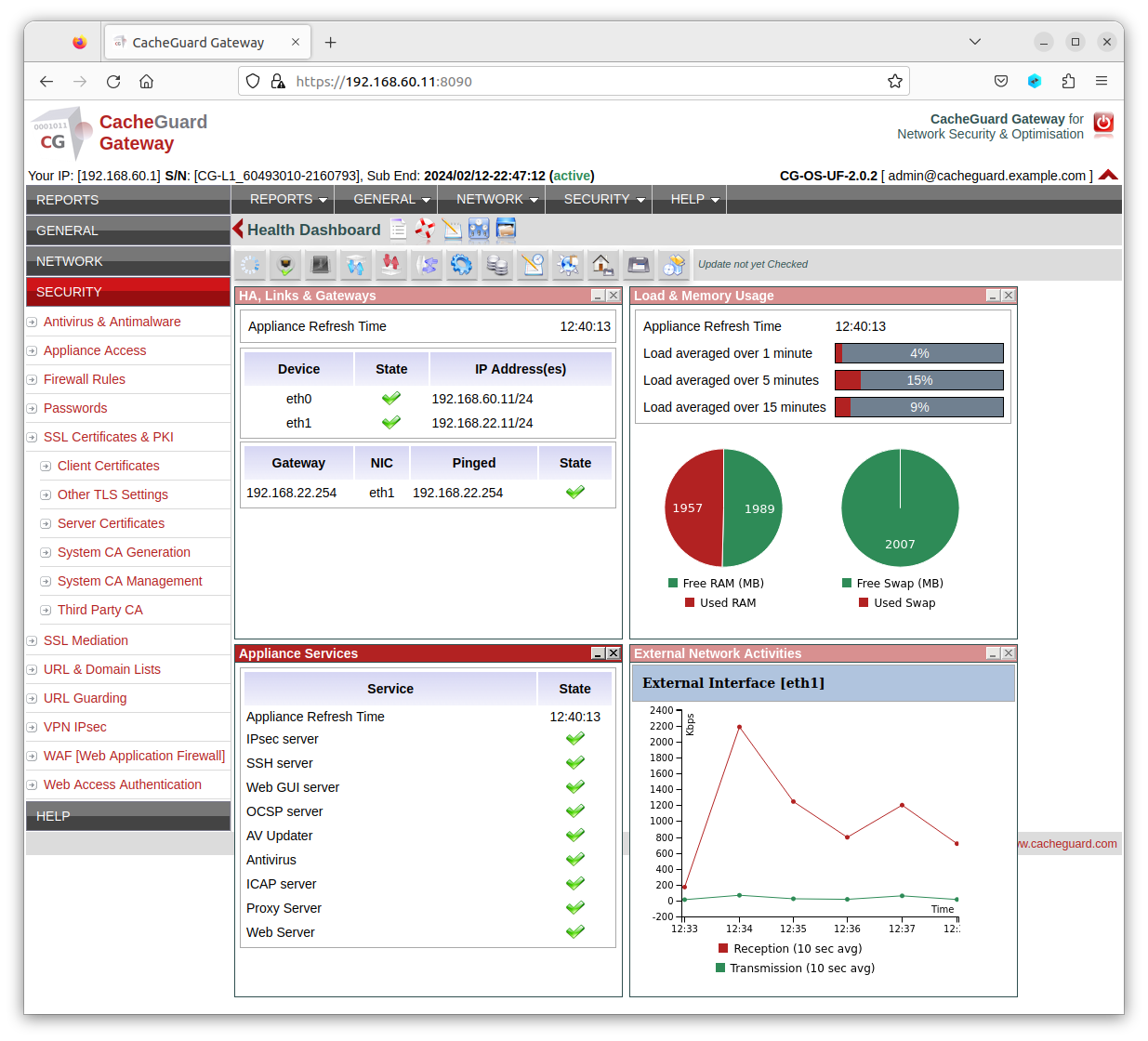 ---